I am a Philadelphia wedding photographer and I work with a small and select group of other Philadelphia wedding photographers as a team for your wedding day coverage.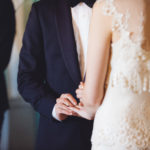 We believe there are a few things that make for an amazing wedding day. The first is a happy couple who are present and in the moment with their friends and family.  20 years from now when you look back at these images we crafted for you, you won't see the crooked candlesticks (I probably straightened them out anyway).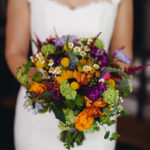 You'll see moments that define who you are, what you value and my bet is, it'll be about the relationships of the people present. It'll be about the generations that came, dressed in their best for you. It'll be a grandfather dancing with the bride because he said he would.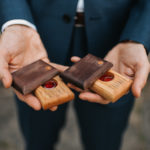 We want to document your day the way it naturally unfolds.  With laughter and tears. And love.
Always with love.
That is, after all, the reason we do this crazy thing week in and out.
⊱ How long have you been shooting weddings? How many have you done?
I have been shooting weddings since 2008 and have shot over 300 weddings.
⊱ Do you do other types of Photography than weddings?
Yes! Most of the work I do is related in some way to weddings or at least started as a result of my wedding work. I shoot fine art boudoir, newborns through seniors and families. In 2015 I officially launched my newborn photography studio in Haddonfield.
⊱ I heard you wear a Mickey Mouse watch. Is that true? It seems out of character.
Yes. It was a gift and I cherish it. Are you ever really too old for a Mickey Mouse watch?
⊱ Can you describe your style?
I consider myself a documentary photographer first and an artist second.  I focus on the moments that will become a part of your history as I stay rooted in the elements that make up fine artistic works.  If I do my job well, the value of the work I give you and your family will gain value as the years go by.
⊱ What is your approach during the wedding day?
My goal is to be there and be there as quietly and as unobtrusively as possible.  This is your story, I'm just there to document it artistically as it naturally unfolds.
⊱ Do you engage or pose people?
Yes. To both. As much as I love good honest photojournalism when it comes to capturing authentic moments, I also embrace the times we need a certain look in certain light. For example family groups or more artistic images of the two of you.
⊱ What is included in every wedding collection?
Engagement Session · Full Day Wedding Coverage · Fine Art Photo Processing · Private Online Proofing and cart · Instant download of all Images
⊱ Do you only do weddings that have wedding planners?
No. About half of my weddings are with couples who have chosen to do it themselves or with the help of family and friends. If you're considering hiring one, let me know and I'll send you some names of those that have impressed me over the years.
⊱ Do you help us prepare for our day or just show up?
Good Wedding Planners (or Day Of Coordinators) can be super helpful for working through timeline issues, etc. That said, I make sure we are as prepared as possible with or without a planner.  I'm available anytime to help in any way I can. This may be your first wedding. It'll be our few-hundredth. Please ask away!
⊱ What kind of equipment do you use and do you use a second shooter?
I use a mix of Nikon professional cameras and lenses as well as various medium format film cameras. 90% of my weddings require a second shooter and we both carry backup gear.
⊱ Wait, you use film?
Yes, when it's best to do so. You will get all of your images as high resolution files after your wedding.
⊱ Do you have insurance? My venue requires a certificate of insurance.
Yes.  We will work with you and your venue or wedding planner to make sure they have what they need.
⊱ Do you travel for weddings? How far?
Yes. I love to travel to new places anywhere in the world, so where shall we go?  I already have flat travel rates set up for many cities in the US. So check in with me to see what those are.
⊱ Can you tell me what your pricing is?
My a′ la carte wedding coverage begins at $3000 and Collections at $4200.  To get a full price guide, please  reach out  with your venue location and date. That way I can confirm my availability for you as well.
⊱ How do I get more information or book with you?
Here's a few links for wedding blogs we like or have been published in. We love how they inspire couples to think outside the box, make their budget go further or just for pretty the pictures.
Thinking about working with me?